Michael Williams, M.D., F.A.C.S.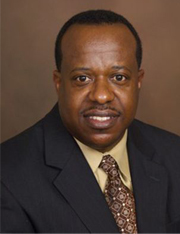 Dr. Michael Williams attended the University of Maryland where he graduated Magna Cum Laude with a bachelor's degree in biology. He was awarded the University of Maryland Alumni Award, certificate of academic achievement and the National Collegiate Natural Science Award. He earned his medical degree from West Virginia University School of Medicine.
Dr. Williams received his surgical training at the Brooklyn Hospital Center where he was awarded the laparoscopic resident of the year award and was also awarded a scholarship for achieving the highest score in the resident-in-training exam. He continued his training with a minimally invasive surgery fellowship from Baylor College of Medicine in Houston, Texas. His laparoscopic skills are exemplified by his awards in the laparoscopic skills shoot out competition at the American College of Surgeons Clinical Congress in 2001 and the Society of American Gastrointestinal and Endoscopic Surgeons meeting in 2002.
Dr. Williams' principal clinical and research interests include minimally invasive surgery techniques, and the surgical therapy for morbid obesity. He has been involved in training surgeons in laparoscopic techniques in the United States and the Caribbean. He has authored numerous medical journal articles, book chapters, and poster presentations.
Michael Williams M.D., F.A.C.S, M.B.S., is the founder of Laparoscopic and Endoscopic Surgery Institute, P.C., which is now a part of Johns Creek Surgery P.C. Dr. Williams has presented at national medical meetings and has authored numerous articles and book chapters. He has been practicing weight loss surgery, as well as, general surgery in the Atlanta metropolitan area since 2002. Dr. Williams performs minimally invasive weight loss procedures and revision of bariatric procedures. He emphasizes the importance of compassion as he combines the science and art of medicine to treat morbid obesity and other general surgical pathology.
Currently, Dr. Williams is the present Chairman of the Department of Surgery at Northside Hospital, Cherokee. He is the former Chief of Surgery at Emory Johns Creek Hospital and Emory Dunwoody Medical Center. He is the former Medical Director of Bariatric Surgery at North Fulton and Northside Hospital, Cherokee. He is also the Vice President of the Georgia Chapter of the American Society of Metabolic and Bariatric Surgery.
Dr. Williams performs procedures including LAP BAND® Surgery, Laparoscopic Sleeve Gastrectomy, Laparoscopic Gastric Bypass, and conversions of various bariatric procedures. To contact Dr. Williams call 770-500-3660. To read more about Dr. Michael Williams click here